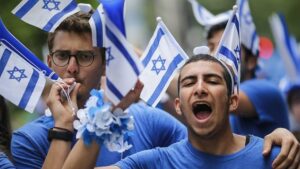 A tavalyi kilencedik helyet követően Izrael lett a világ negyedik legboldogabb országa a World Happiness Report éves felmérése szerint. A dobogón Finnország, Dánia és Izland végzett. Izrael a legjobb tízben megelőzte Hollandiát, Svédországot, Norvégiát, Svájcot, Luxemburgot és Új-Zélandot is.
Az évente kiadott jelentés a Gallup Intézet globális felmérésén alapul. A jelentés szerint az emberek boldogságérzete a koronavírus világjárvány ellenére is "rugalmas" maradt. A kutatás a személyes jóléten túl figyelembe veszi a GDP-t, a társadalmi támogatottságot, a személyes szabadságot és a korrupció mértékét is – írja a The Times of Israel.
Magyarország nem került be a TOP50-be, az 51. lett a rangsorban. Szerbiában, Bulgáriában és Romániában volt a legnagyobb a jólét növekedése, míg a lista abszolút sereghajtója Afganisztán és Libanon lett.